I made it to Mexico! We arrived in Cancun about 30 minutes earlier than we were supposed to. When does that ever happen? We had to wait for our other party to arrive as well and hung out just outside the international exit. While there, I noticed another American who looked like he was backpacking too! Matt from Chicago was waiting for his friends to get to Cancun before embarking on their loop of Mexico, Belize, and Guatemala. It was nice to have the company while we waited. He should be friend requesting me in order for us to follow each others adventures.
I started my first (and second) dives Saturday! It was amazing. Some of the fundamentals I had to do were really hard for me. (Take your mask off underwater and leave it off for a minute before putting it back on and clearing it was really tough for me.) One of the guys in the group took some pictures of me diving and I should be able to post those in another month or so. Anyway, the dive master runs his shop out of
Chankanaab Park
on Isle Cozumel. It is gorgeous there. We arrived at 9:30am and finally left at 5:30. While my boys were out snorkeling, I found a cocktail and a hammock to watch the sun set.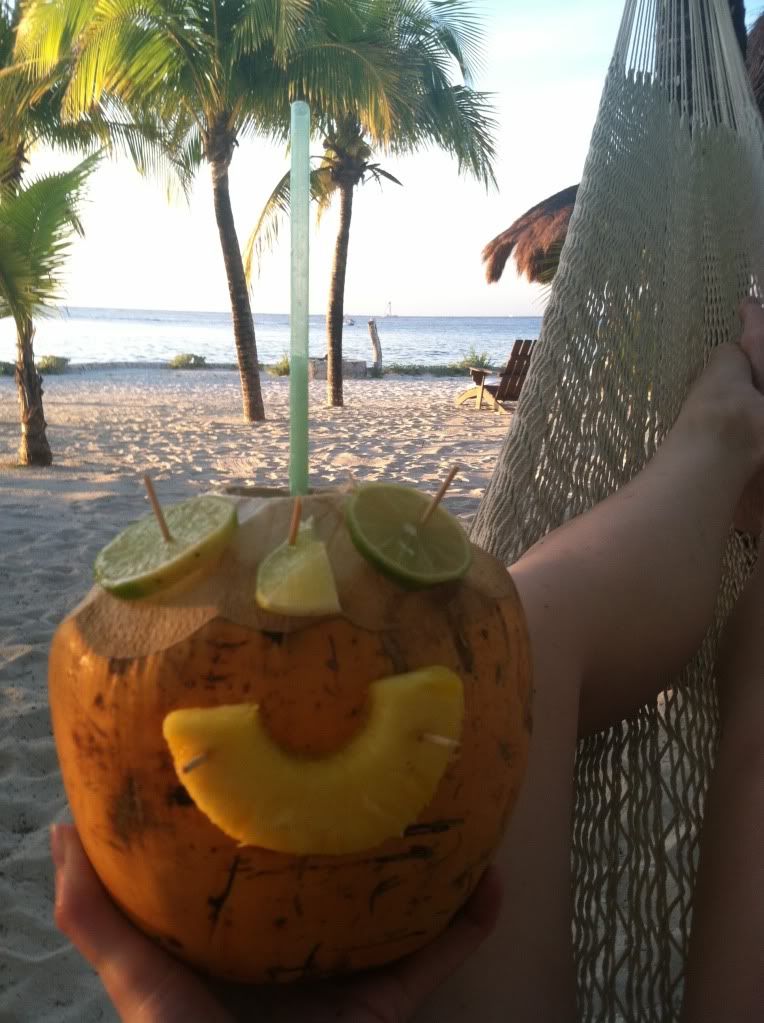 We finally caught a taxi the 10km back to our hotel, cleaned up a bit and headed to dinner. The food at El Pique taqueria was fantastic. I ordered two tacos, finished those up and decided I needed another round. We each ordered one more. This place is open until 1am, so after a few beers, we headed back to the taqueria for a couple more. This was the best food I've had in Mexico so far. It's M$20 or less per taco, or about $1.50.
Another day of scuba awaits Sunday morning. Buenos Dias!