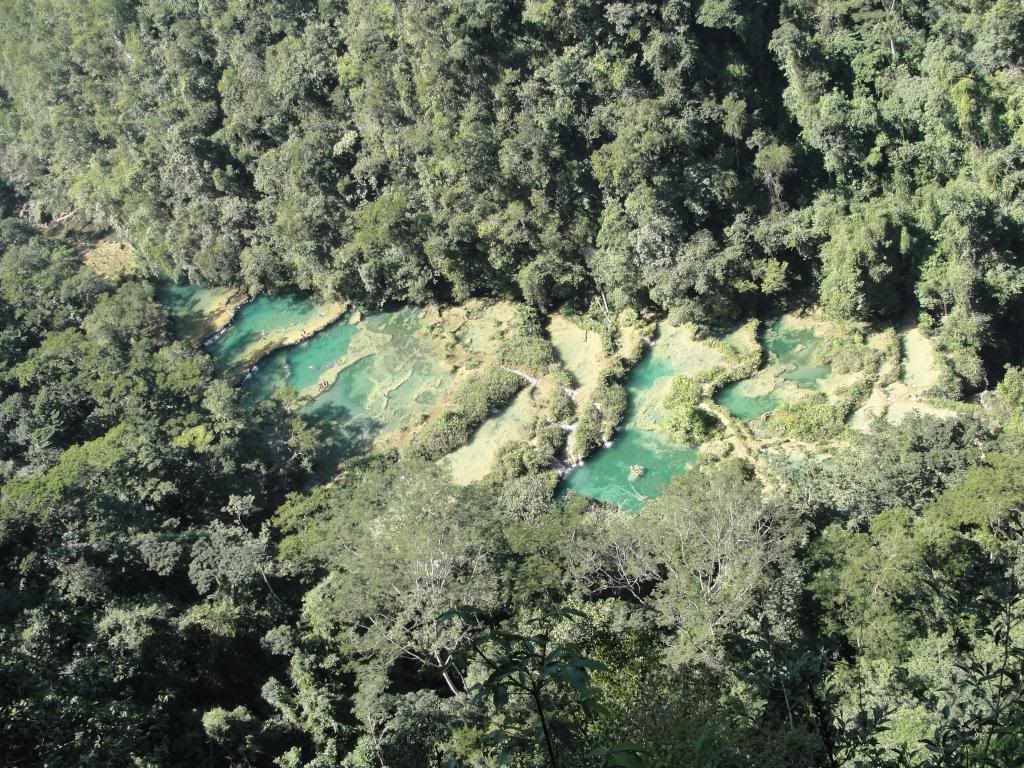 My last couple weeks have been really indescribable. This place is part of the indescribable. I took this photo from the viewing deck after a fairly intense hike up a mountain. Prior to that, I was swimming through a nearby cave by candlelight. Let me start a bit closer to the beginning:
After a six-hour drive to Lanquin, I was stuffed into a vehicle about the size of a jeep with about twelve other people. We made the quick trip to
Zephyr Lodge
, where we stayed three nights. The Zephyr Lodge is really cool. It is literally in the jungle. I slept in a thatched roof hut and took in some fantastic views. (Sadly, I only have so many photos uploaded to photobucket, so the photos of the fantastic views will have to come another time.) The next morning, I headed to Semuc Champey with my group.
First, we went into the cave. We were each handed a candle at the entrance. Mind you, we were really never not in water the entire time in the cave. Anyway, we start swimming and making our way through the cave. I'm having such a hard time describing the awesome of this cave. There was a rope we had to climb up to get to the next level of the cave. The rope was behind a waterfall. :D I jumped off the wall of the cave into the pool below. It was fantastic.
After exiting the cave, we went to the rope swing. I have a thing against rope swings. I always hurt myself jumping, so I skipped this one. Lots of people tried it and some ended up with massive bruises from landing badly. I have photos of the swing I'll post another time.
Next we went to (literally) jump off the bridge. The jumps keep getting higher and higher! That jump was about 12 meters.
Then we went to the viewing deck where I took that photo above. You would think this is the grande finale, but it wasn't. We spent the next three hours of the day swimming, sliding, and jumping from pool to pool. See those waterfalls? I slide down them.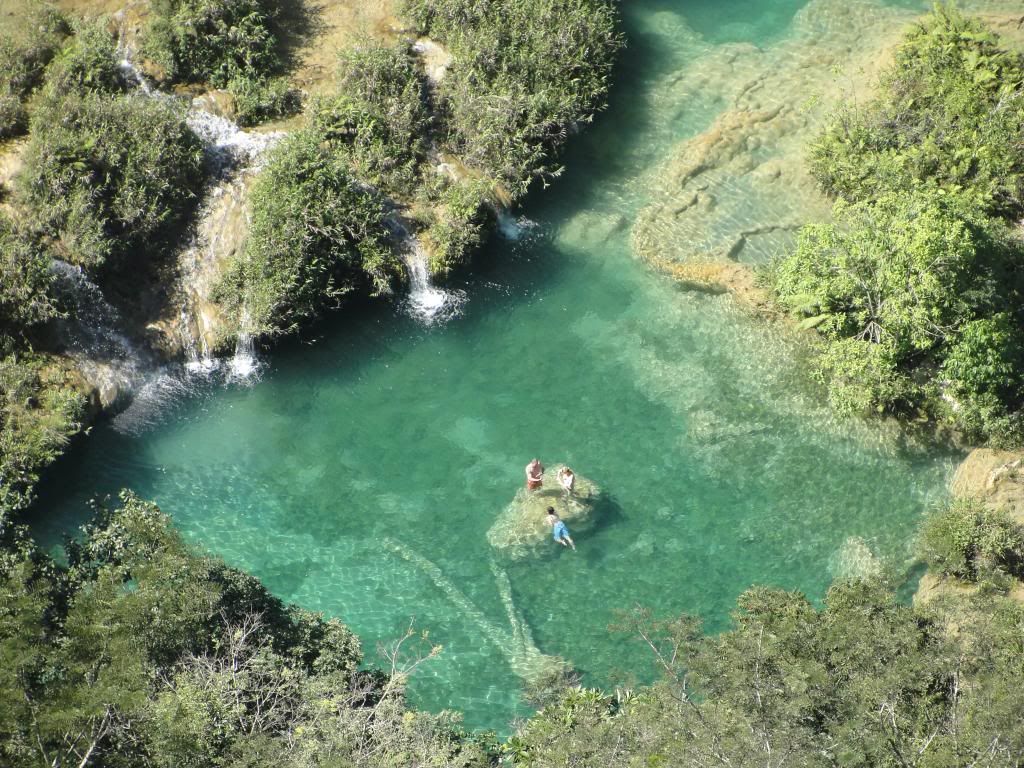 Semuc Champey exceeded my expectations by about ten billion lightyears. I highly recommend checking it out if you are ever in Guatemala. Lanquin is about a six hour drive from Flores, Guatemala City (airport), and Antigua. I normally am not a fan of tours and I really didn't want to do the tour through the lodge, but I'm glad I did. I don't think Semuc Champey would have been the same experience on my own. It was pricey for Guatemala standards at 200Q including lunch ($40), but the expense was worth the lifetime of memories.
It's almost time for me to board my bus to Nicaragua. Adios!!