I'm a week late, but I finished my skirt for my first sew biweekly challenge! I had 30" and some random pieces of a red cotton sateen I picked up last summer. It's a nice fabric to work with. It's got a little stretch to it, but not too much where it's annoying. I really think the fabric turned out a polished finished object and I look forward to wearing it when it warms up outside. Stupid cold weather!
Pattern: Simplicity 2451, View C, $1
Fabric: Red cotton sateen from JoAnn's, $5/yard and I guess I used a yard total
Misc Notions: zipper, $2 and thread, $1
Here's the front with my shirt untucked (probably how I'll wear it)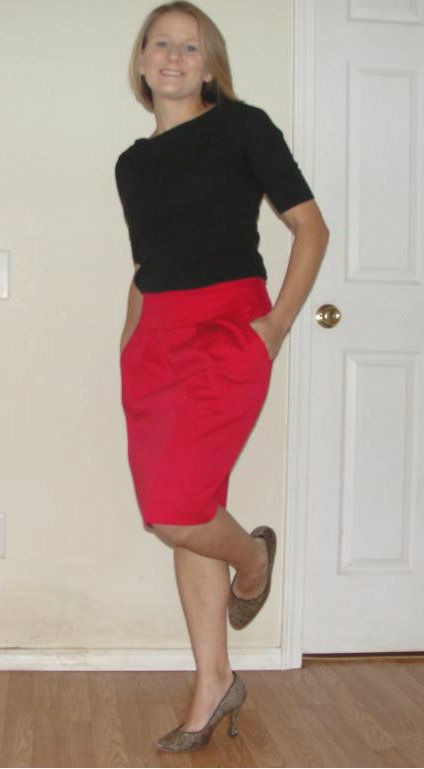 I may be blurry, but at least I have pockets!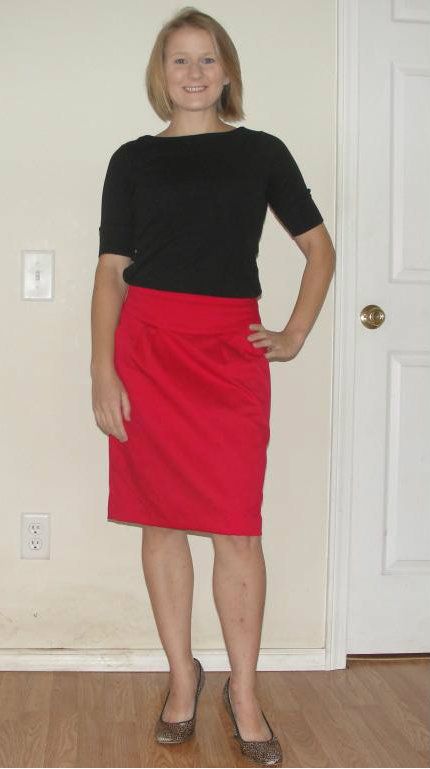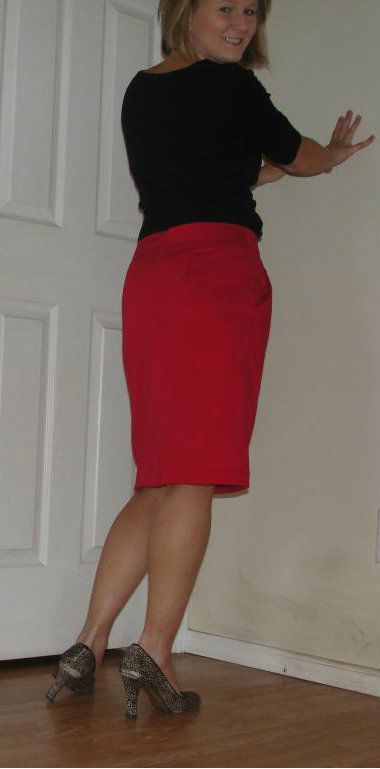 Still too short to be a supermodel? Darn!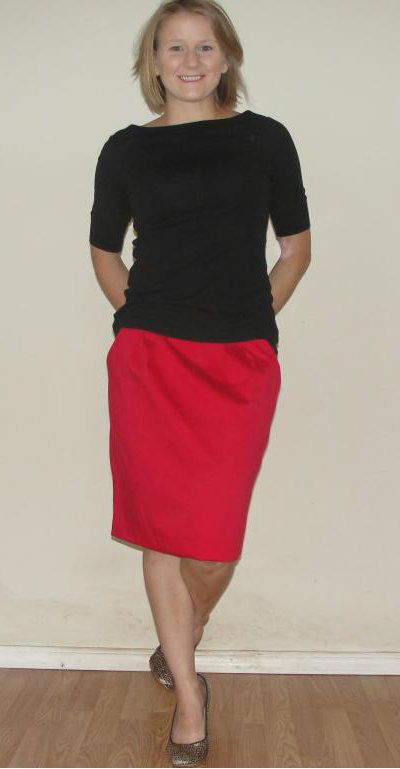 Reason 682 I love being able to sew my own clothes: I often have a higher hem in the back than in the front on ready-made garments. This is because I have a butt that is kinda out there. The hem difference was significant on this project. I ended up grading (is that the right word--I'm not sure) up the hem about 3/4" on the front, so my hem is 1.25" on the back and almost 2" on the front. Now my skirt looks fabulous!
I'm glad I did this project. It had so much hand sewing, but I really love the way it turned out and I think I'm going to add hand-stitched hems to a lot more projects in the future. It just looks so clean. I can see where I got more comfortable with my hand sewing because my stitches became more even along the hem. I think I'll get it perfect in time! (Excuse my dirty wall. My dog lays right there all the time and I'm at the point where I've washed that wall so often I'm rubbing the paint off!) I had to get pictures of my shoes on this post too. They are probably my favorite pair of shoes and it shows. They remind me of the old style Prada shoes. I love them! They will be worn with this skirt a lot.
Now I have to get working on my next challenge project. Eeep! I think I'm going to try to finish up the turquoise silk dress. A hand-stitched hem is in order. :)