Who doesn't love pizza? This is another "I'm too tired to even think about what to eat tonight" recipes. You can prepare just the dough and top the pizza the night of baking or prepare the entire pizza and freeze that. It's your choice. I'm going to share my dough recipe, which will make 4 medium-sized pizza crusts or 8-10 personal-sized pizza crusts. I normally keep personal pizzas at work for a quick lunch. It helps me save some money by not eating out for lunch! Speaking of saving money, I did the math on the pizza and each personal-sized one costs me $0.75 for just cheese and $1.00 if I top it with loads of pepperoni. You can't deny that kind of awesome!
Let's get started:
Cast of Characters: yeast, warm water, garlic powder, olive oil, flour, kosher salt, sugar, Italian herb seasoning (I use Durkee Grill Creations even though pizza dough is not the intended use)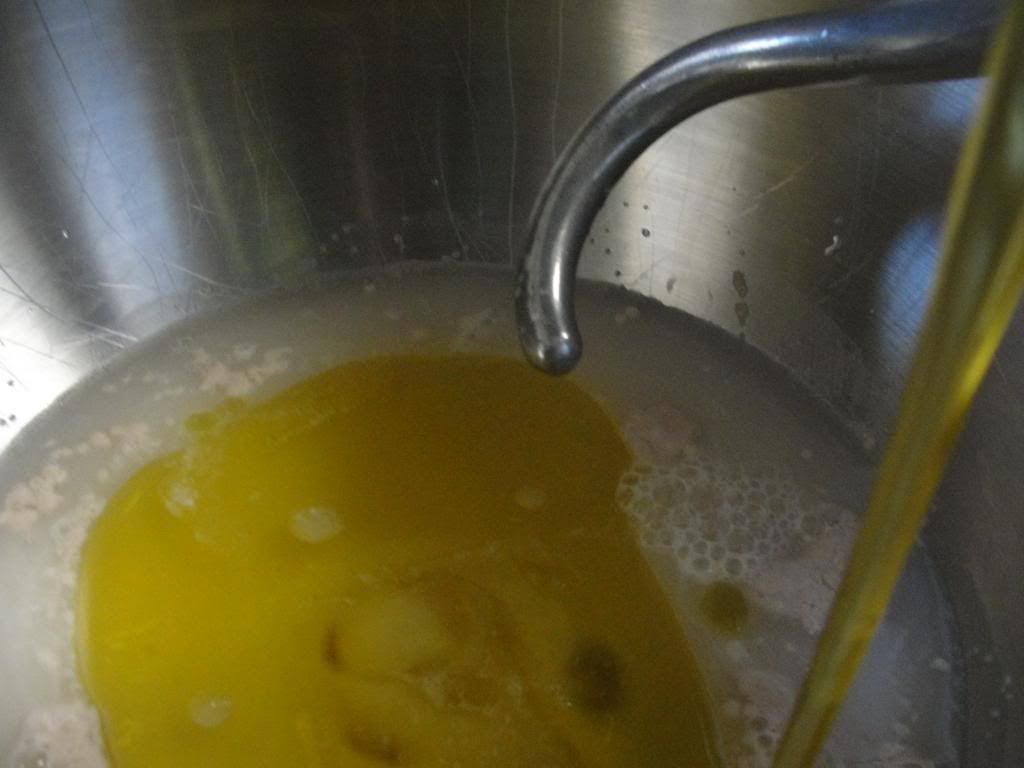 Mix warm water, yeast, and sugar together. I know my yeast is good, so I don't proof it. Add in the olive oil.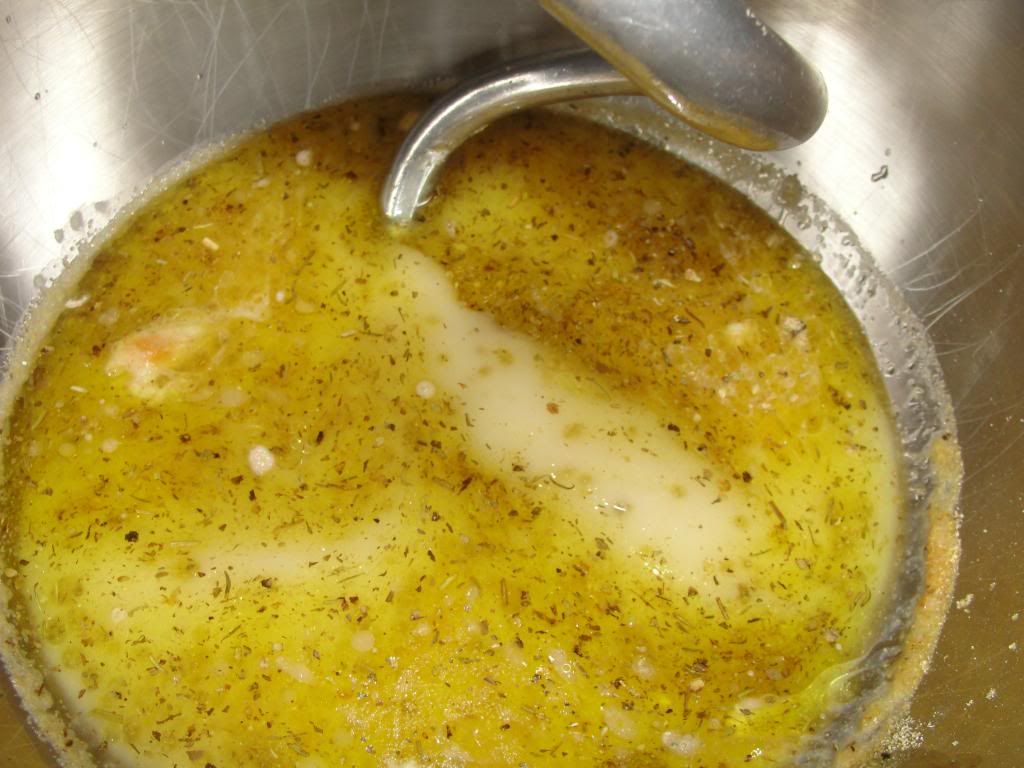 Add salt, garlic, and Italian herb seasoning and mix everything together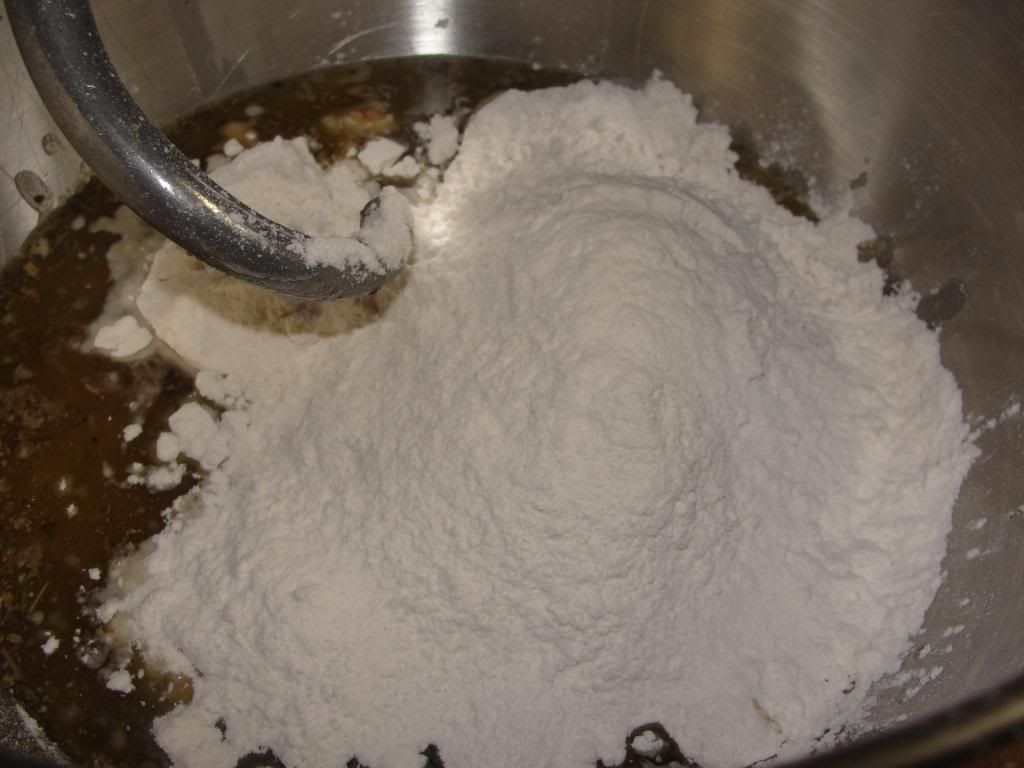 Add the flour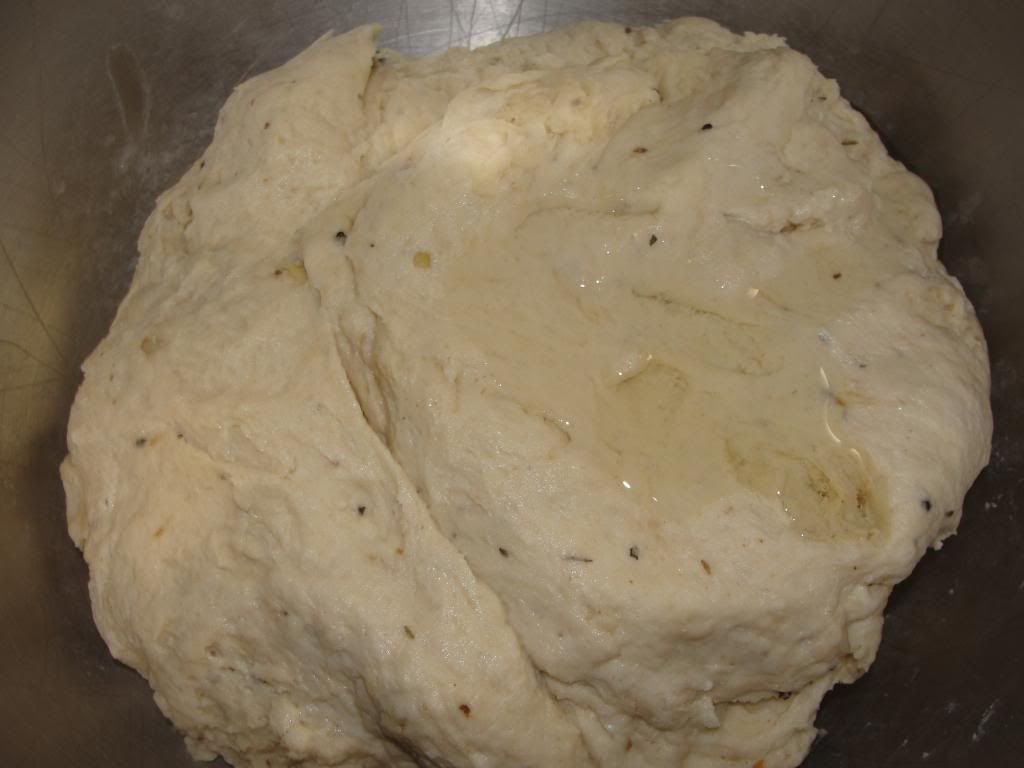 Mix, mix, mix! Magic dough ball! Once everything is thoroughly incorporated, leave the dough to rise. This picture shows olive oil on top. I do this to keep the dough from drying out and/or sticking to the bowl as it rises. There's also some olive oil on the bottom of the bowl.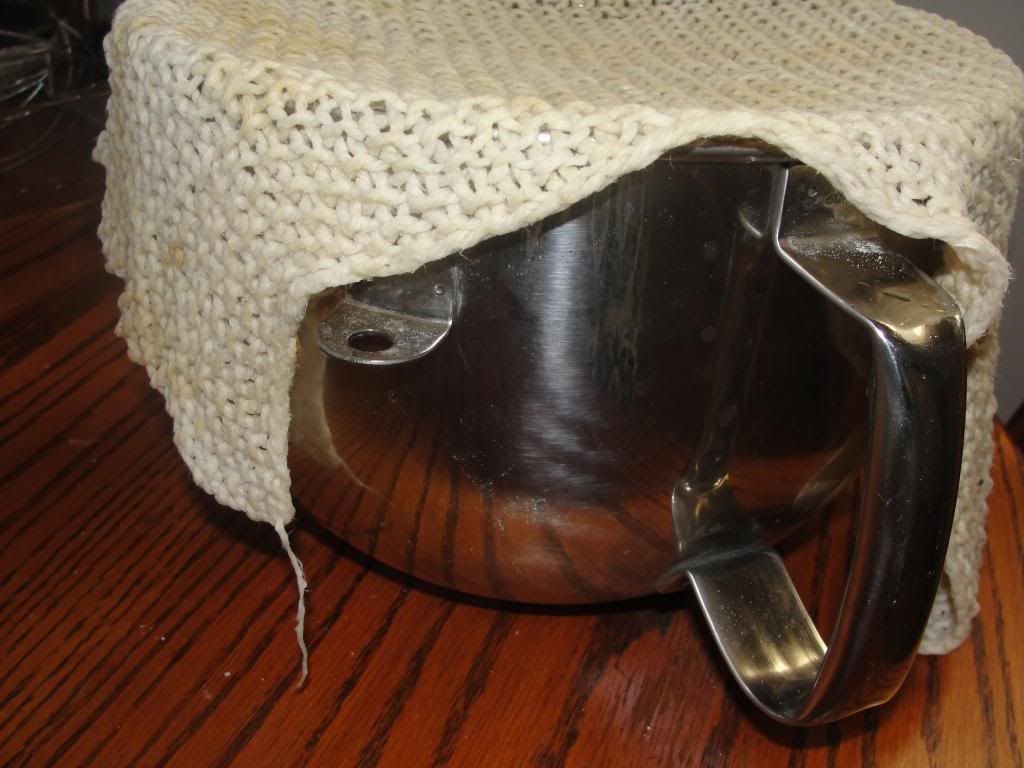 Put a damp towel over the top of the bowl and let dough rise for a while. I typically let my dough rise for 3-4 hours. Mostly because I do other things and forget about it. It's fine. You don't have to burp this dough. It's more like a no-knead dough.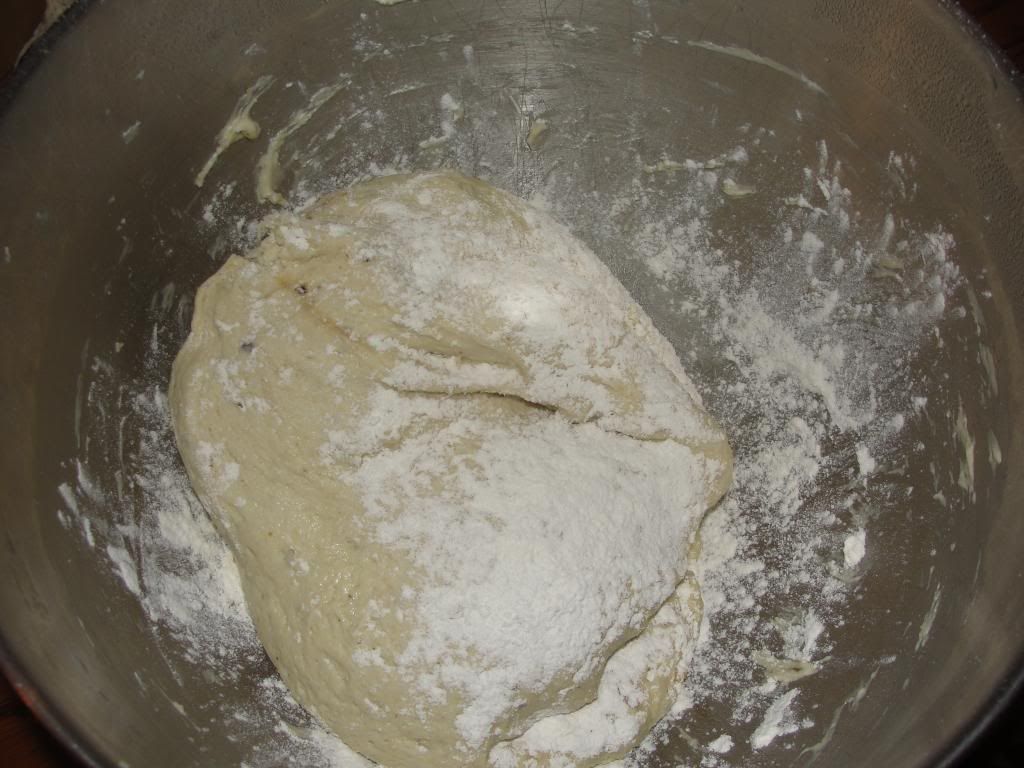 Punch the dough back down and make it into a ball again. I'm getting ready to shape it into pizza crusts, so I

sprinkled flour on top to make it easier to pull dough balls from it.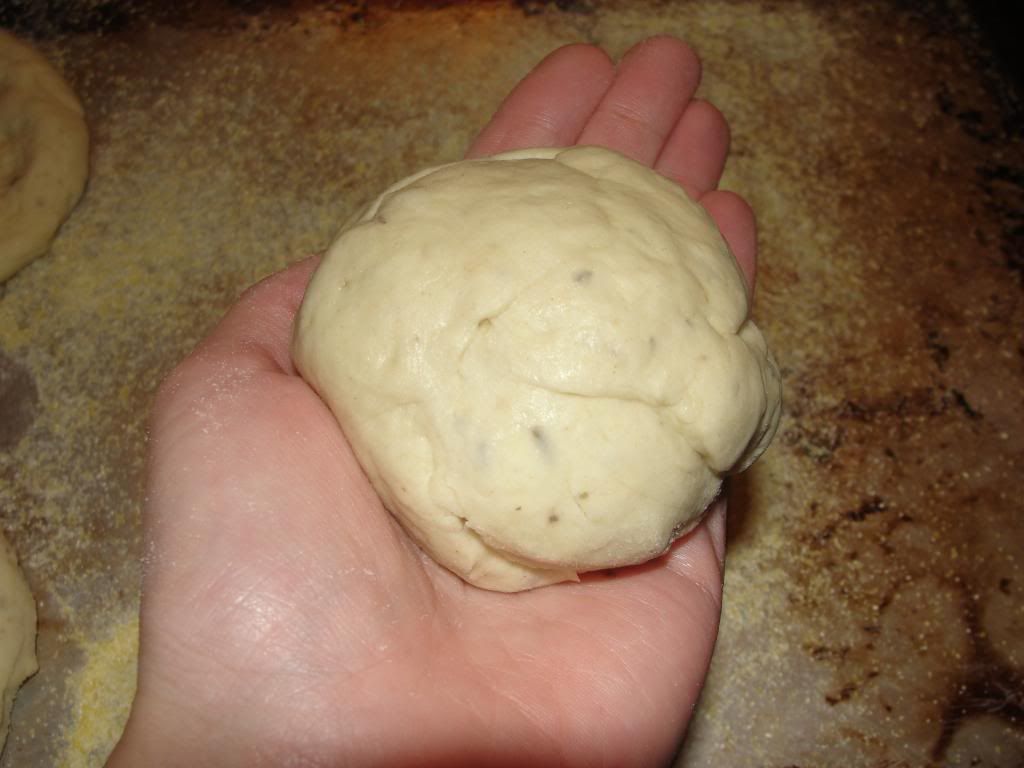 I'm making rather small crusts. For this, I pull do

ugh balls about the size of a baseball.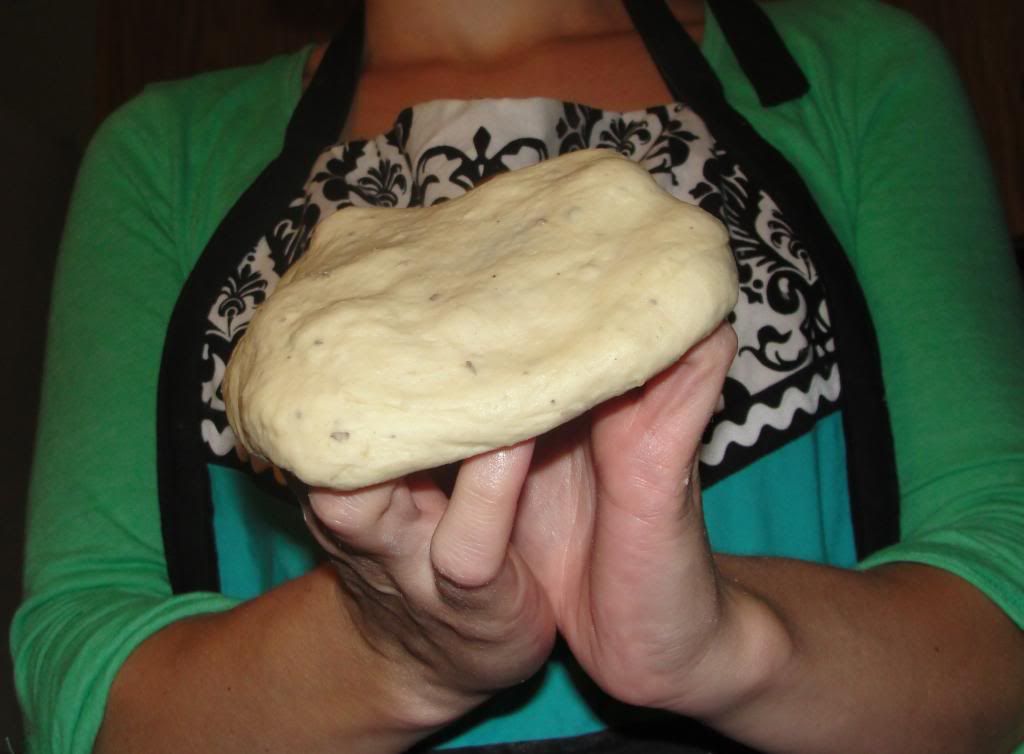 Me in action! Push an indentation in the middle of the dough ball and start working the dough into a larger, thinner crust. This crust-

making does take some practice, so don't get discouraged if it doesn't just happen for you.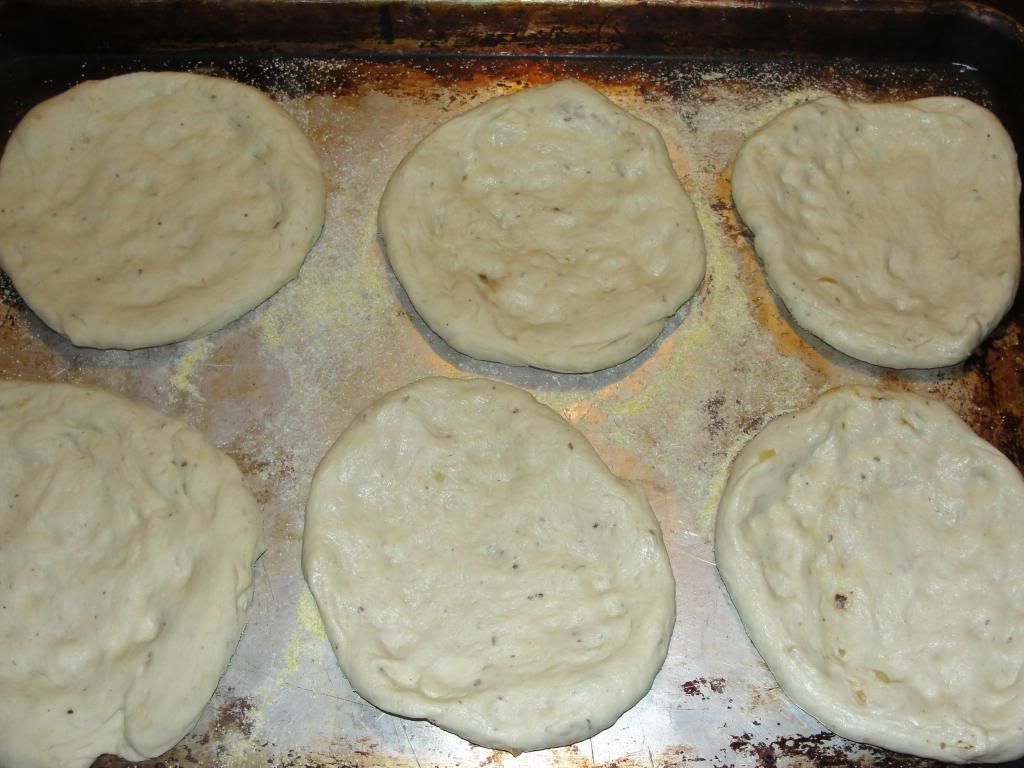 Even I make some wonky-looking crusts. I'm okay with this. Press some indentations into the center of the crusts with your fingers. You don't want the middle of the crust to rise to the same level as the actual crust when it is parbaked later. Trust the skills! Here's where I apparently forgot to take pictures: Sprinkle cornmeal on the baking sheet before you put the dough down to keep the crusts from sticking to the baking sheet. I also like the crunchy bottom on my pizza. To parbake, preheat your oven to 500°. You are going to parbake the crusts for 3 minutes. Allow the crusts to cool for a bit. At this point, you can either flash freeze the crusts and put them in a

freezer bag or wrap with foil (depending on size) or continue topping the pizzas before flash freezing and storing in the same method. I'm going to top my pizzas now.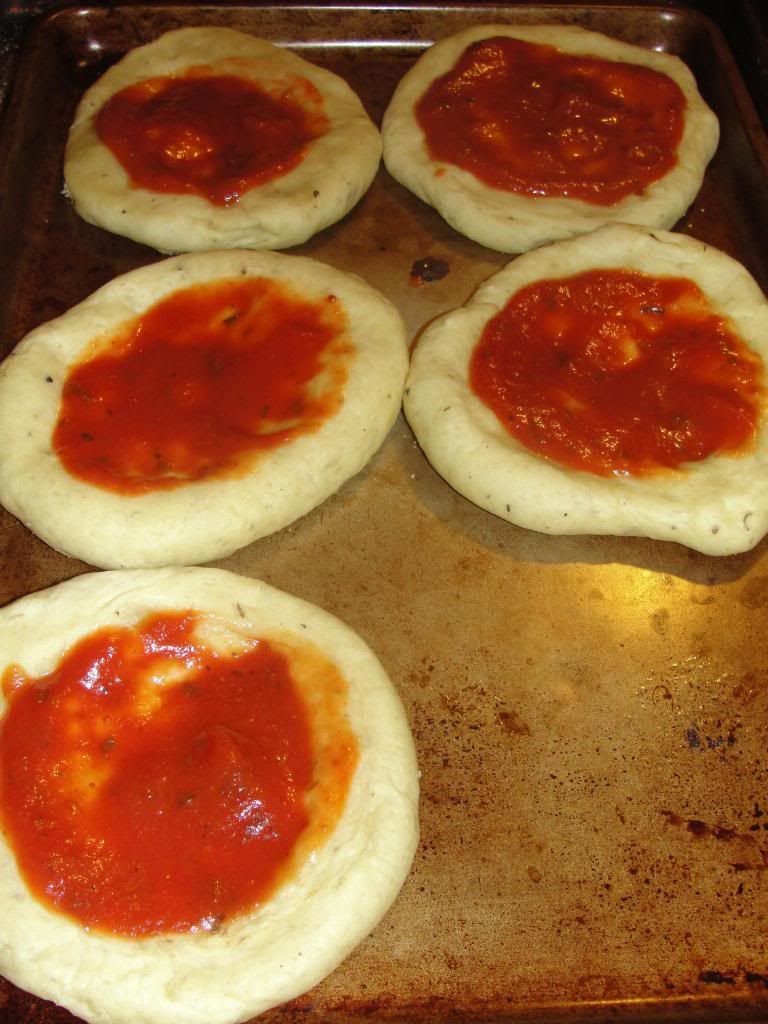 Ooh! Sauce! (This is the awkward moment where I realize I deleted all my other pictures thinking they were already uploaded to photobucket. Oops.) So put a little sauce on each crust to your liking. Top with cheese. I find that the toppings slide right off in a freezer bag. If you want to do something crazy like BBQ buffalo chicken pizza, it's probably best to put those toppings in a separate freezer bag and just keep it with the

crusts. Or--top however you want and wrap the pizzas in foil. That works too.
Fr

eezer-Friendly Pizza Dough
(makes 4 medium pizza crusts or 8-10 personal pizza crusts)
2 packages yeast (or the equivalent in teaspoons from a bulk jar)
1/2c olive oil + more to coat bowl
2-3T garlic powder depending on how much you like garlic
1.5T Italian herb seasoning
Preparation Instructions:
Preheat oven to 500
°.
Mix yeast, sugar, warm water, olive oil, salt, garlic powder, and Italian herb seasoning together in a big bowl.
You need at least a 5-qt bowl I would say.
Add the flour and mix dough to combine everything thoroughly.
Pick up the dough and put a bit of olive oil on the bottom of the bowl.
Drop the dough back in the bowl and pour a bit more olive oil on top.
Place a damp kitchen towel over the top of the bowl and allo

w the do

ugh to rise until it has doubled in size.
Punch the dough back down and reform it into a ball.
Sprinkle flour over the top of the dough.
If you want to make medium-sized pizza crusts, score the dough equally in quarters and roll it out to your desired thickness.
For personal-sized pizzas, pull baseball to softball-sized portions of dough and work each into a crust by hand.
Begin by putting an indentation in the center of the ball and slowly working the dough thinner from the center out.
Place each crust onto a baking sheet sprinkled with cornmeal.
Parbake the crusts for 3 minutes.
Allow the crusts to cool before flash freezing and storing or continue on to top the crusts as desired.
Preheat oven to 500°.
Bake pizza 15-20 minutes from frozen.
Here's the printable version of this recipe (

opens in a new window).