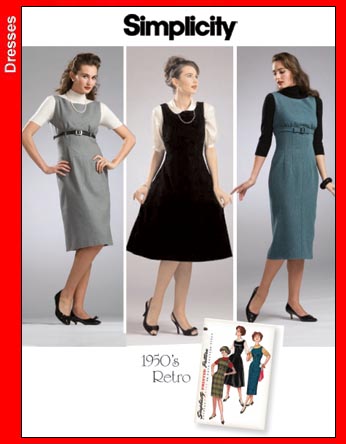 Just the Facts:Fabric:
about 2.5 yards each of quilting cotton and poly/cotton broadcloth from JoAnn's $11.75
Notions:
Thread from stash, zipper
Pattern:
Simplicity 3673, View C
Year:
1950s reprint
Time to Complete:
I stopped keeping track
First Worn:
December 9, 2013
Wear Again:
yes again and again and again
Total Cost:
$15.00 including the pattern
This dress has actually been finished for a couple weeks. I made two attempts at taking FO photos and I'm not really thrilled with either effort. I am, however, totally in love with this dress. I spent so much time making it exactly right. I wanted pockets. I added pockets. I wanted a collar. I made a collar. I wanted sleeves. Yup. Got some sleeves. I think with a couple-few more tweaks, this will be a great contender for a TNT dress pattern.
The fabric is navy with green geometric patterning. It's circles and diamonds. I thought the fabric was quite light and possibly sheer and wanted to underline it. This created a fabric that I think is the perfect weight. I wanted to line the fashion fabric with batiste, but couldn't find one in navy blue. I went with the poly/cotton blend because I actually liked the hand for underlining.
The skirt isn't twirlable as much as I try. It's only a four gore skirt. The waist shaping is achieved by sewing 6 darts per front and back.
I got one hand in my pocket and the other hand's in the other pocket. Alanis would not be pleased with my rendition of her song.
This dress certainly gives the illusion I have actual curves. I tend to think I'm quite celery-shaped.
I think this photo is accurate of the fabric color. From a distance, the colors blend so nicely that it creates a lovely shade of teal.
This is part of photo session take 2. You have no idea how cold I was. The frost had just melted off the ground.
See? Cold. I am showing off my fancy new gold shoes! Off topic: I bought a pair of black satin pumps from Dilliards years ago. I love those shoes so much. I went looking for another pair of shoes from the same company, but I wanted a nice neutral gold tone. These are the perfect new shoes to go with my (almost) perfect new dress.
I used the cap sleeve from Simplicity 2444 as well. Heavily modified, of course. That's my style lately--modifying the crap out of things. Let me explain how I modified the sleeves to fit my arms.
First I got a new piece of freezer paper. I drew a slash line at the half way point. Keep in mind that the back of the sleeve is longer. That's why the line looks "off."
You can see here that I made myself some notes on the pattern piece. I previously adjusted the armscye and the sleeve had to be adjusted by that much as well. Actually, if you are mixing pattern pieces over different companies, it's a good idea to measure your armscye and sleeve cap to make sure they "match" before sewing them together. Just like it sounds, I take a flexible tape measure and measure each pattern piece. It is normal for the sleeve cap to be slightly larger (1/2" or so) because you ease the cap to the shoulder.
Anyway, back to the point. I adjusted my armscye by 3/4", so I needed to add that much to my sleeve cap. I put little marks on each side to reflect that adjustment. Then I carefully spread my cut point until it matched the finished measurement I needed. I ended up with a sleeve measuring 15.25" including the seam allowance. I taped the slash down so it wouldn't move while I traced my old sleeve onto the clean sheet of paper. I had to true up the bottom of the sleeve and mark the new grainlines and that's it. Easy peasy.
Here's my new sleeve, nice and pretty.
Notes are good. I will be making this S2444 eventually and I want to make sure I don't make more work for myself down the line.
My pretty pocket. I cut both both pocket pieces out of the navy broadcloth.
I serged all my edges. Don't they look lovely?
The dress zips up the back with a lapped zipper. The way one sews in a lapped zipper requires one to baste the zipper opening closed first. As I stitched further down the 22" zipper, the fabric biased more and more as I fed it through my machine. I don't know how to keep that from happening again. You can tell the lap is obviously biased, but I can't see back there, so whatevs.
I understitched my collar to keep the seam allowance down and to keep that nice collar stand.
As far as how it looks compared to the look I was going for? I give myself an A-. I missed some of the design details with this attempt, but the dress is a definite win overall. What do you think?